The strange world of super-specialist cutlery
By Magazine Monitor
A collection of cultural artefacts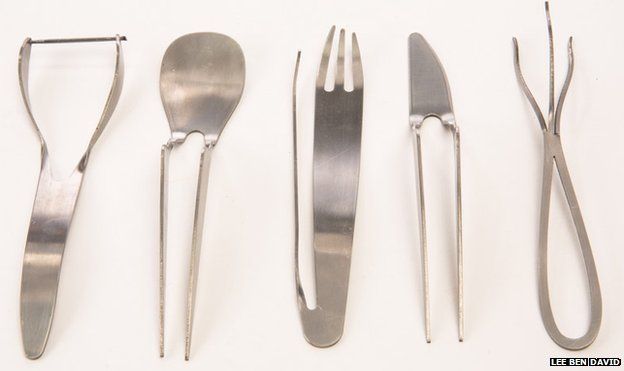 A designer has produced a set of very specific cutlery in an attempt to highlight the number of "absurd" utensils now on offer, writes Luke Jones.
Lee Ben David's cherry tomato picker, pitta bread opener, artichoke scraper and edamame extractor fill very narrow roles. Each only deals with one foodstuff.
Her knife and fork combination was designed for cocktail parties. It allows diners to have a plate in one hand and effectively have both knife and fork in the other. "I came to realise the absurd amount and variation of available cutlery - whether if it's a knife designated only for fish, or a fork originated only for salads," she says.
Ben David's cutlery will never be mass-produced, but there's a long history of specialised cutlery. Steak knives are perhaps the most common. An advert in the Times in 1914 for Mappin and Webb, offered a gift set of "trustworthy cutlery" that included six egg spoons, a pickle fork and a chutney spoon.
On the Titanic there were a hundred pairs of grape scissors, 400 Asparagus tongs and a thousand oyster forks.
Writing in the letter pages of the Times in 1960, WC Levesley of Bakewell bemoaned how hopeless stainless steel knives were - something many have now accepted as standard. "How much longer is the British public to put up with the blunt, almost useless cutlery which one finds on the dining tables of practically all restaurants in the country?" he complained.
Some modern cutlery is designed to stop you eating. Hapifork, an "intelligent" electronic fork, tracks how much you are eating and how quickly. It alerts you if you are eating too much too fast.
However, a device from 1948 also aimed at avoiding food never did catch on. The mechanical soup spoon was intended for dinner parties where the host has served inedible soup. The spoon allows the user to drain the unpleasant soup through a tube through a jacket sleeve to a hot water bottle and the offensive smell is blown away by a small fan.