Who, what, why: Why do so many drivers shun seatbelts?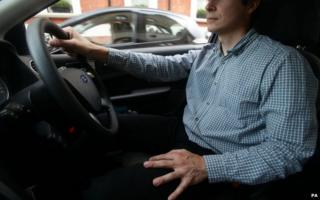 It is more than 30 years since it became illegal to drive without a seatbelt, yet up to two million drivers in the UK are still risking it, with 47% not knowing it could incur a fine, according to a new survey. Why is that, asks Luke Jones.
Even before it became law in 1983, television screens were filled with hard-hitting and sometimes harrowing seatbelt safety ads.
In 1963, viewers were told "the difference between an ugly smash-up and just a nasty shake-up could simply be the seatbelt habit".
"You know it makes sense," the voiceover boomed. That habit was taken up by around 90% of drivers after it was put into law, according to the Department for Transport, and further campaigns, now collected on the government's Think! website, have kept it high.
So how is it that a poll by LV car insurance has found that 6% of drivers in the UK are still taking to the roads without a seatbelt? According to government figures, if you have a crash, you're twice as likely to die if you are not wearing a belt. But two million of us are doing it anyway, the poll says.
The title of that first seatbelt awareness advert was "It can't happen to me". According to Graham Hole, a senior lecturer in psychology at the University of Sussex, that is exactly what many drivers believe today.
"Many simply do not think they'll ever need them," says Hole. "There is a self-serving bias where people think they are more likely to survive than other people, and less likely to ever be involved in an accident in the first place."
Just as with drink-driving, those who return unscathed begin to think they can do it. A "constellation of riskiness" forms, which fuels more bad driving practice.
Some see it as a point of principle, while others offer a range of excuses. "One man told us he did not want to ruin his tan," Sgt Rob Heard of Hampshire Police reported when the constabulary took part in a Europe-wide campaign to crack down on drivers not wearing seatbelts. "A couple of people stated they never wore a seatbelt and would still not wear one because they felt that was their right."
But many, such as the television presenter and motoring expert Quentin Willson, think it is down to laziness and a relaxed attitude to risk. "We now have a generation who see cars as just another consumer item like a washing machine," he says. He also points out that with modern vehicles, it is harder to avoid the seatbelt. There is a "cacophony of buzzers and beepers in cars reminding people now".
As well as the safety risks of not belting up, there is considerable risk to the wallet - not wearing a seatbelt carries a fine of up to £500. According to the survey, £8.2m in fines have been issued so far this year to 80,000 drivers.
---
Belt up
80,000 drivers fined so far this year for not wearing a seatbelt
32% of those who don't wear them says it's because they forget
22% because they find them uncomfortable
85% of over 65s find wearing them too restricting
Source: ICM online poll for LV car insurance
---
Subscribe to the BBC News Magazine's email newsletter to get articles sent to your inbox.