The struggle to claim the month of October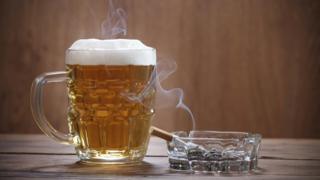 Separate campaigns are urging people to give up alcohol and tobacco for October. Why is a month the standard unit of doing worthwhile things, asks Jon Kelly.
Next month you can Go Sober for October. Or you can quit smoking for Stoptober. Then grow a moustache for Movember and a beard for Decembeard. And then quit drinking all over again in the New Year with Dry January or Dryathalon. All in a good cause, of course.
Modern secular society has its own version of the religious fasting ritual. You abstain from something or do something silly for a month, usually in aid of a charity. Being sure to keep your social media followers updated throughout.
It's proved a very effective strategy for many worthwhile organisations. People are more likely to agree to modify their behaviour or volunteer for charity for a time-limited period than on an open-ended basis, says Prof Ian Bruce of the Centre for Charity Effectiveness at Cass Business School, London. "People want to know what they are letting themselves in for."
October is a particularly auspicious month for giving up vices. The summer is behind you. But it's also "an opportunity to test willpower before the Christmas party season in November and December", says Hannah Redmond, head of national events marketing at Macmillan Cancer Support, which organises Go Sober for October.
There's another high-profile abstinence-based campaign under way, but Redmond says the two are very different. Stoptober, run by Public Health England, urges people to give up smoking for 28 days as a means of encouraging them to quit for good. This is based on evidence that those who give up for this duration are five times more likely to stop permanently. It doesn't have a fundraising element. Go Sober, by contrast, encourages people to abandon alcohol for a month only and be sponsored by their friends and family. Last year it raised over £2m and 53,000 participants have already signed up for 2014.
Plus, it's inevitable there will be concurrent crusades. There are lots of good causes but only 12 months in the year. This is no bad thing, says Bruce. In charity and health promotion, just as much as in business, "competition grows the market". And if you give up one bad habit you're more likely to quit another.
Subscribe to the BBC News Magazine's email newsletter to get articles sent to your inbox.