Small Data: Why are people not going on as many trips?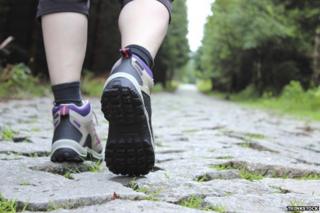 People in England made an average of 923 trips each last year, writes Anthony Reuben.
That sounds like a lot - about two-and-a-half per day each - but the National Travel Survey from the Department for Transport says it's the lowest number since records began in the early 1970s.
Also, it includes anything from a walk round the block to flying across the country.
The activity that took up the most trips - shopping - was also one of the biggest fallers, down from 187 to 180 trips during the year.
The number of shopping trips has been falling since 2010, with growth in online grocery deliveries a possible contributor to that. ONS figures suggest that online sales by predominantly grocery stores (mainly supermarkets) rose 12.6% in 2013 compared with 2012, although it is still a relatively small proportion of their total sales.
Visiting friends' homes was down from 101 to 94 trips a year on average.
Going by road was by far the most popular means of getting around, with 64% of trips being as either a driver or passenger in a car or van, accounting for 77% of the distance travelled. Walking accounted for 22% of trips but only 3% of the distance travelled.
The National Travel Survey involves interviewing 6,830 households and getting them to fill out weekly travel diaries. The number of trips taken has been falling gradually since 1995.
Mobile phones and tablets make it easier to communicate with friends and do our shopping without leaving our homes. But one reason for taking a trip that has remained pretty constant since 1995 was the "other" category, which includes just going for a walk.
Subscribe to the BBC News Magazine's email newsletter to get articles sent to your inbox.