The perils of being called Isis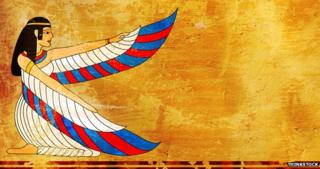 A US mobile payment company has changed its name from Isis to avoid confusion with the radical Islamist group. Should similarly titled brands feel obliged to follow suit, asks Jon Kelly.
US mobile payment service Isis has changed its name to Softcard to distinguish itself from Islamic State (IS), formerly known as the Islamic State in Iraq and Syria - commonly shortened to Isis. "However coincidental, we have no desire to share a name with this group," chief executive Michael Abbott said in a statement.
It's understandable, given that the other Isis is responsible for mass killings and abductions of members of religious and ethnic minorities, as well as beheading soldiers and journalists.
The defunct Boston "post-metal" group Isis received abusive messages on its Facebook page from posters who confused them with the Islamist organisation (the page is now titled "Isis the band"). The musicians said fans had emailed to say they were now reluctant to wear their T-shirts. Ann Summers apologised for any offence caused after, with "unfortunate timing", it launched a range of "erotic lingerie" called The Isis Collection.
But other Isises persist. There is a pharmaceutical company (which has insisted it will be keeping its name), a Young Offenders Institution, a river modelling software package, an international development foundation, and the Oxford University student magazine. In 2013 there were 46 babies born in the UK called Isis, making it the 825th most popular girls' name.
All, presumably, take inspiration from the Egyptian goddess, the Oxford river or the 1976 Bob Dylan song, rather than the Sunni militants. But each could be forgiven for considering a rebrand.
"It's a difficult one and we're monitoring it," says David Brown, chief executive of ISIS Schools, which teaches English to overseas students. On the one hand, the name is now associated by many with extremism and violence. On the other, IS may catch on instead. "We'll decide in the next month or two how to respond," Brown adds.
Others say it's the name of the militant fighters that should change. Isis Martinez, an alternative medicine practitioner based in Miami, launched an appeal titled Thousands of Women are Named Isis, Please Petition the Media to Use the Accurate Acronym ISIL - referring to Islamic State of Iraq and the Levant.
And indeed IS has already given itself a new title - following the logic of Osama Bin Laden, who, according to documents recovered from his Pakistani compound, considered rebranding al-Qaeda.
Subscribe to the BBC News Magazine's email newsletter to get articles sent to your inbox.