The backlash against banter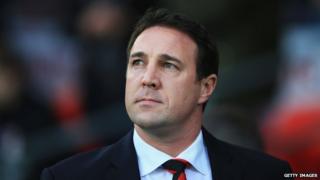 The use of the word "banter" to describe Malky Mackay's "disrespectful" text messages has been the focus of widespread criticism. The case raises questions about the way the word is used, says Lucy Townsend.
The League Managers Association's use of the phrase "friendly text message banter" in relation to former Cardiff City manager Mackay's texts - which it acknowledged were "disrespectful of other cultures" - provoked an angry reaction.
Former England player Stan Collymore attacked the LMA for its "acceptance of the 'banter' of casual racism". Eurosport.com has described it as "the day banter died". Football365.com said the term was "frequently used to obfuscate and trivialise issues that continue to impair football's integrity".
The LMA subsequently apologised, saying it had not meant to "trivialise matters of a racist, sexist or homophobic nature".
But debate around the word continues.
Banter, meaning to ridicule, is centuries old. Playwright Thomas D'Urfey used it in Madam Fickle in 1677. "Banter him, banter him Toby. 'Tis a conceited old Scarab, and will yield us excellent sport," he wrote.
Banter has become recognised as the comedy of lads. The Inbetweeners 2 film sees the boys indulge in "full-on bants". They talk of the "The Archbishop of Banterbury" and "Bantom of the Opera". It is good-natured mickey-taking based on tacit consent between friends.
But sometimes what some people regard as "just banter" is not considered so funny by others.
When Australian cricket captain Michael Clarke used an obscenity while warning an opposing player to expect a broken arm, he insisted it was "banter". Cricket's authorities did not agree. He was later found guilty of breaching the International Cricket Council (ICC) code of conduct.
The problem with "banter" is that people use it as an excuse to say something unpleasant and then distance themselves from it, says Daily Telegraph assistant comment editor Tom Chivers.
"I hate the way the word is used to cover up something bad and horribly offensive. It's not bants, it's not LOLs, it's completely grim.
"Banter is saying that if you find this offensive then you're the one in the wrong because it's just banter and you don't get it."
There's a big difference between friendly teasing and bullying. For this reason, banter will always have its defenders. But for others, it has become associated with the latter rather than the former.
Subscribe to the BBC News Magazine's email newsletter to get articles sent to your inbox.