Caption Challenge: Bed of nails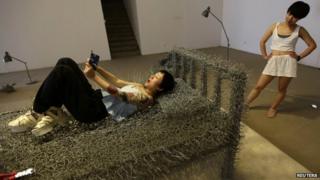 Winning entries in the Caption Challenge.
The competition is now closed.
This week, a woman watches as another takes a selfie on an iron wire bed at Beijing Art Now Gallery.
Thanks to all who entered. The prize of a small amount of kudos to the following:
6. Tony Auffret:
Suzie thought her friend had said she had a brill pad.
5. Sue Wade:
"According to IKEA we should have one more nail."
4. Joni Letch:
"I didn't make it so why should I have to lie on it?"
3. Graz Valentine:
"It's not very comfortable - I reckon there's a pea under the mattress."
2. Ben Harvell:
"Fortunately, I'm hammered."
1. Chris Grey:
"Think of the laundry we won't have to do."
Full rules can be seen here
[16KB]
Follow @BBCNewsMagazine on Twitter and on Facebook