Caption Challenge: Bear grins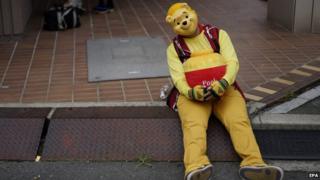 Winning entries in the Caption Competition.
The Caption Challenge is now closed.
This week a cosplayer takes a rest during the Osu Cosplay Parade in Nagoya, Japan.
Thanks to all who entered. The prize of a small amount of kudos to the following:
6. Michael Horn:
Even in his lowest moments, due to the construction of his face, Winnie couldn't help but smile.
5. Dry Boak:
"I completely misunderstood. Come bare they said. I didn't know it was a naturist convention."
4. IABP:
"You can take my picture but I own the copyright."
3. Comeinski:
"Hi! Honey? I'm homeless..."
2. Judith Wiseman:
Please look after this composite fancy dress wearer.
1. Paul Godley:
"...and they said I would be a necessity of life *sniff*"
Full rules can be seen here
[16KB]
Follow @BBCNewsMagazine on Twitter and on Facebook