The return of the beer cocktail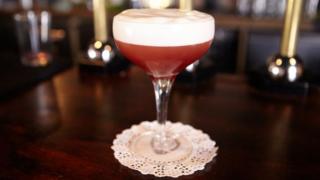 Beer cocktails are increasing in popularity. Strange as it sounds, it's a drinking tradition that dates back to Victorian times, writes Tammy Thueringer.
Imagine a drink made of vodka, Aperol, sherry, watermelon and clover syrup, coriander, lemon and topped off with amber ale. Yes, as in beer.
If that concoction sounds appealing, you are in luck. Beer cocktails have been popping up at bars and restaurants on both sides of the Atlantic for the past few years.
There have always been beer mixtures. In the US, the Boilermaker is a shot glass of whiskey dropped into a beer. In the UK, Snakebite (with or without blackcurrant) is a mix of cider and lager and the stuff of teenage mythology. In France, beer with Picon is a classic drink. And Black Velvet - champagne and stout - has always been popular.
But the current trend is to use beer as an ingredient in an actual multiple-ingredient cocktail - typically floated on the top or as a base. Chris Hutchinson, manager of Underdog bar in London, has more than a dozen on the menu and uses ingredients like "libertine" syrup and blackberry foam. "Our drinks are classic cocktails with a craft beer twist and then we add in other ingredients that blend well," says Hutchinson. "London is saturated with speakeasies and places offering craft beer - we wanted to provide a different option."
The "new" trend actually has its roots in the 19th Century and beyond. "From at least the medieval era in Britain, drinkers were knocking back concoctions such as warm ale, brandy and egg," says Jane Peyton, an alcohol historian and Britain's Beer Sommelier of the Year. Popularity peaked during the Victorian era, when they had names like Huckle My Buff, Humpty Dumpty, and Six and Tips, and were commonly mixed beer with brandy or gin.
Their popularity waned during a period when many Victorians switched from beer to tea. "When the tax on tea was reduced, the amount of alcohol consumed went down dramatically," Peyton says. "Once people could afford tea, they started mixing that with water which at the time was dirty and often considered unsafe to drink." When beer recovered its popularity, for some reason mixtures didn't come back in the same way, says Peyton. But the craft beer craze has proved key.
And now, the hoppy cocktails are back with a twist.
Subscribe to the BBC News Magazine's email newsletter to get articles sent to your inbox.