Caption Challenge: Hitch-hiking robot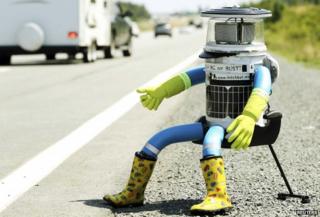 Winning entries in the Caption Competition.
The Caption Challenge is now closed.
This week it's a robot hitch-hiker in Halifax, Nova Scotia.
Thanks to all who entered. The prize of a small amount of kudos to the following:
6. rogueslr:
Marvin had always been confused over the difference between AI and the A1.
5. Whatever Next:
I left my SCART in San Francisco.
4. Thomas Cope:
Cameron announces UK spaceport budget to be "scaled down".
3. IABP:
Councils introduce smart bins that make their own way to the tip.
2. Ian Stanley:
Next generation speed cameras more cunning than ever.
1. Adrian Wade:
R2 Detour.
Full rules can be seen here
[16KB]
Follow @BBCNewsMagazine on Twitter and on Facebook