Victorian Strangeness: The tragic coffin prank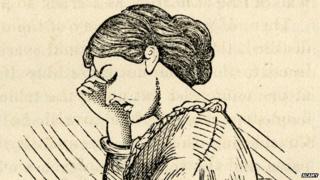 Author Jeremy Clay tells the singular story of the girl who was frightened to death by a coffin.
At first it was just a shadow. An indistinct shape on the footpath by a chapel on a lonely Lancashire lane at dusk. But as the girls walking home from the factory got nearer, it began to form into something more tangible. Something more creepy.
A coffin, just lying there. It was a sight strange enough to stop them in their tracks. Unnerved, but intrigued, they took a few tentative steps closer. And that's when it happened. A low hollow sound from somewhere nearby broke their jittery hush. And then the coffin shuddered and began to move.
Springing back in alarm, the girls turned and dashed headlong down the road, shrieking and screaming as they ran.
Fifty yards on, they bumped into a lad walking along the lane, who persuaded them to show him what they'd seen. Fortified by back-up, Martha Spencer and Bridget Riley gathered the courage to return to the casket. And there they saw local lummoxes Richard Forshaw and Robert Mawdsley, guffawing as they lifted the coffin to their shoulders and carried it away.
These days, no doubt, this pair of fat-heads would have filmed their prank, uploaded it, and waited expectantly for it to go viral. Back in lo-fi 1858, they had to go down to the pub and brag.
They'd done it for a lark, Forshaw told drinkers at the Rose and Crown in Much Hoole that night. They'd tied a length of string to one of the handles on the coffin. Mawdsley hid behind a hedge until the girls approached, then tugged at the string. Forshaw watched from a ditch, desperately struggling to suppress his rib-rattling sniggers. "You're a bonny fellow to frighten children so," one of the regulars admonished him as he finished the tale. And the castigation was about to get far, far worse.
As Forshaw showboated in the inn, Martha was still shaken. The following day, the 13-year-old was back at work, as usual. But then she complained she felt sick. Her condition deteriorated rapidly and a few hours later, she breathed her last. Let's not trouble ourselves with the grisly details, but the inquest found she had been frightened to death.
The press called the episode shameful, heartless and stupid. The jury called it manslaughter and Forshaw and Mawdsley were arrested and committed for trial.
Now it was their turn for dread, and after sweating on their future for a few months, they appeared at Lancaster Assizes the following February.
But if Forshaw was an ass, and Mawdsley too, the law wasn't - well, on this occasion, at least.
"His Lordship said the youths had been guilty of a very thoughtless act in frightening a girl to death," reported the Preston Guardian and Lancashire Advertiser, "and he hoped they would not on any occasion repeat the offence. It would not be right any longer to have them branded as felons."
The jury found them not guilty, and the prisoners were free to go and live their lives. If only the same could be said for poor, timid Martha.
Discover more about what life was like in Victorian times and 10 truly bizarre Victorian deaths
Subscribe to the BBC News Magazine's email newsletter to get articles sent to your inbox.