Caption Challenge: Flying piano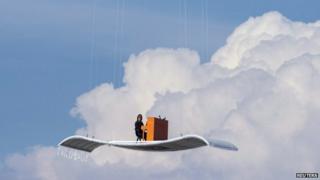 Winning entries in the Caption Competition.
The Caption Challenge is now closed.
This week, a pianist plays on a "flying carpet" suspended from a helicopter over Munich Airport.
Thanks to all who entered. The prize of a small amount of kudos to the following:
6. David Gleeson:
"I misheard you when you said you wanted to hire the piano player."
5. Donna Bannister:
"I see Elton's bought a new rug!"
4. Tony Thresher:
"It's OK - you're not missing anything. I'm playing John Cage's Four Minutes 33 seconds."
3. GMK:
Drastic measures needed as Manilow refuses to leave stage.
2. Peter James:
"We recognise the earlier delivery drones struggled with larger items and also lacked the personal touch."
1. Becky Luxton:
"I think he's uploading a tune to the cloud."
Full rules can be seen here
[16KB]
Follow @BBCNewsMagazine on Twitter and on Facebook