Caption Challenge: Bowled over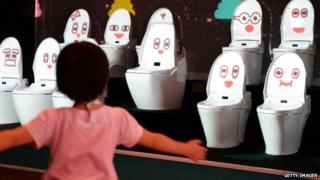 Winning entries in the Caption Competition.
The competition is now closed.
This week, a child dances at a toilet exhibition in Tokyo's National Museum of Emerging Science and Innovation.
Thanks to all who entered. The prize of a small amount of kudos to the following:
6. Colin:
John, I'm only dancing.
5. Ashley B:
Flushdance.
4. Rory:
Henry the hoover, is that you? You're looking a little flushed.
3. B Jackson:
Look Dad, Pan's People.
2. Jim Nicol:
It's no use. I can't go when there's someone watching me.
1. Liam Higgins:
Trapped in the room after two litres of squash, Katie began to hallucinate.
Full rules can be seen here
[16KB]
Follow @BBCNewsMagazine on Twitter and on Facebook