Who, what, why: What's happening to wi-fi on trains?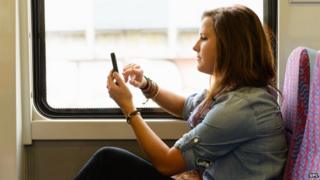 The UK government is promising to improve wi-fi connectivity on trains, while making services up to 10 times faster. What will happen, asks Justin Parkinson.
Train passengers hate it when wi-fi cuts out. It stops them getting work done, denies them access to the latest news and prevents them keeping in touch with others via emails and social media.
Ministers are promising that a £90m upgrade across England and Wales will stop them being "constantly disrupted by poor signal". This will be part-funded by a £53.1m fine levied on Network Rail for failing to ensure enough trains run on time. It is expected that a universal service, offering broadband speeds up to 10 times the current level, free to all train users, will be in place within a few years.
Currently trains receive 3G signal from ordinary mobile phone masts, which is "forwarded" to passengers through an onboard wi-fi system. Provision can be patchy, particularly in rural areas or when passing through tunnels or by embankments. Operating companies often charge for connections while on board, while several do not offer any wi-fi at all.
Network Rail is installing its own transmitters along lines, which it says will get the whole network connected. The government's latest announcement is about upgrading the trains themselves to ensure they pick up the signals and distribute them quickly to carriages via the upgraded onboard wi-fi system.
There will be enough capacity to deal with all passengers' needs "and then some", a Network Rail source says. Users of routes into London, Manchester, Leeds and Sheffield are expected to be among the first to benefit, within "three or four years". So, will it turn trains into a better working environment?
"These things are announced by the government, but the detail comes later," says Trevor Tupper, treasurer of the West Sussex Rail Users Association. "So we shall have to see."
Some other European countries, including Sweden, have updated their on-train wi-fi. "It used to be that we kept losing connectivity," says Henrik Torstensson, chief executive of Lifesum, a health app company. "But now you can do quite heavy-duty work on the train. It's not quite state-of-the-art but the coverage is very good. The only problem I've encountered is that too many people want to use it as it's so popular."
But not everyone will welcome more connectivity. "When I started commuting people liked to have a sleep after reading the paper, which was nice," says Tupper. "Now they are working from the start of their morning journey until they get home at night."
Subscribe to the BBC News Magazine's email newsletter to get articles sent to your inbox.