Who, what, why: Where is the hardest place in the UK to be a busker?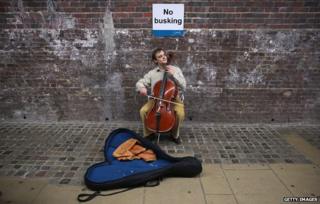 Police in London are using a 175-year-old law to arrest buskers, it has been reported. Which parts of the country have the most stringent restrictions on street performers?
Section 54 of the Metropolitan Police Act 1839, which also prohibits kite-flying, sleigh-riding and doorbell-ringing, was used to justify the arrest of four young musicians who had been performing in London's Leicester Square in May, the House of Lords was told.
Busking is not illegal in the UK but many council byelaws are more stringent than others when it comes to regulating the practice. In the City of London there is "no provision for licensing busking", according to the Corporation's website. It's "the last place you'd go to busk", says Jonny Walker of the Association of Street Artists and Performers.
However, under the London Local Authorities Act 2000, councils can give themselves the power to seize unlicensed buskers' equipment, sell their instruments and impose fines of £1000. The only two authorities to have adopted them are Camden and Hillingdon. Arguably these penalties "are even more draconian", says Walker. Campaigners against the legislation in Camden said they will now take the case to the Court of Appeal.
But across the country the picture is "incredibly mixed", says Walker. Places like Oxford and Hull require buskers to register with the council. Southampton permits busking only in designated areas. By contrast, Bournemouth and Portsmouth have recently relaxed their licensing rules. Cathedral cities like Canterbury, Norwich and Winchester, where "the ancient tradition of public performance is strong", do not require any kind licence to busk. Neither does Cambridge.
There are other factors buskers have to take account of. Busking that takes place on private land requires the consent of the landowner. The Highways Act 1980 forbids buskers to obstruct roads and pavements. The Environmental Protection Act allows for noise abatement notices to be issued against nuisance buskers. Children under 14 are not permitted to busk. A street collection licence will be required if busking for charity and street trading laws regulate buskers who sell CDs and other merchandise. Under the Civic Government (Scotland) Act 1982, any street performer who gives "any other person reasonable cause for annoyance" is guilty of an offence north of the border.
No local authority's regulations match that of Henry VIII, who in 1530 ordered that any buskers who did not obey his licensing system be whipped for two consecutive days.
Subscribe to the BBC News Magazine's email newsletter to get articles sent to your inbox.