Caption Challenge: Shelling out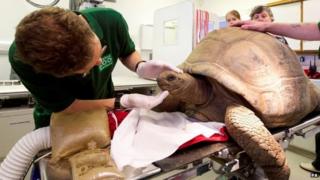 Winning entries in the Caption Challenge.
The competition is now closed.
This week, a vet checks Helen the giant tortoise at Bristol Zoo.
Thanks to all who entered. The prize of a small amount of kudos to the following:
6. Jon Boaden:
Vet: I was expecting to see a Mr Hare next, but you seem to have turned up first.
5. Martin Cartney:
"Work your magic doctor and make me look a hundred years younger!"
4. David Norris:
"Have you tried moisturising at night?"
3. Graz Valentine:
"I'm not saying anything until Johnny Morris gets here."
2. Richard Gibson:
"Well that was a success, you'll be running around like a two hundred year old in no time!"
1. IABP:
"The last thing you remember was being picked up during Blue Peter and put in a cardboard box and left in a shed?"
Full rules can be seen here
[16KB]
Follow @BBCNewsMagazine on Twitter and on Facebook