Victor Hugo attacked by French students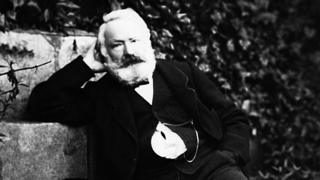 Victor Hugo has been trending on Twitter in France as students lash out angrily after the Year 12 Baccalaureate exam - and are in turn condemned by others for their disrespectful attitude, notes Olivia Sorrel-Dejerine.
The author of Les Miserables and the Hunchback of Notre Dame was repeatedly called the son of a prostitute, and worse, last night.
Two other French authors Louis Aragon and Claude Roy also came under fire, but for some reason Hugo took the brunt of the attack, after the four-hour test "Poetic writing and search for meaning, from the Middle Ages to the present day".
One of the options was to write a commentary of Le Crepuscule, a Hugo poem in which a blade of grass, representing life, holds a conversation with a grave, representing death.
Among the more publishable comments:
"Victor Hugo if I run into you on the street you're a dead man."
"Now I hate Victor Hugo, Aragon and Roy. No in fact I hate poetry. No, no, in fact I hate the bac, period."
"Victor Hugo because of you I flunked my bac."
Students had already turned to social media to complain about exams on philosophy, history and geography, but in smaller numbers.
The backlash from critics helped to get the subject trending:
"A respectful thought to Victor Hugo who, on this day of French bac, shines a light on the vulgarity and stupidity of our time," writes a councillor from a town in northern France.
"Dear students, you'd be better off respecting Victor Hugo rather than these stupid reality-show participants."
"Who do you think you are to insult Victor Hugo? Just because you are illiterate doesn't mean you should pick on his writings."
French journalist Laura Duhamel Babani published a screen shot of several tweets with the sarcastic comment: "High school students pay tribute to Victor Hugo after their French bac. Youth is so touching."
Ironically, Hugo himself sharply criticised the bac and academia in general in a 1864 essay from his book William Shakespeare.
In his (grass-free) grave in Paris's Pantheon, the author may be laughing.
Subscribe to the BBC News Magazine's email newsletter to get articles sent to your inbox.