Smashed Hits: Another Star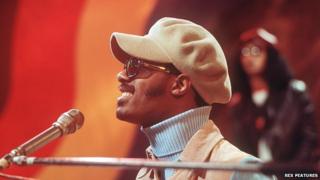 Another Star, from Stevie Wonder's double album Songs in the Key of Life, has been chosen as the soundtrack to the BBC's World Cup coverage, writes Alan Connor.
If Stevie Wonder's music means something to you, you are advised to take a moment alone with his song Another Star, before it becomes a little less personal.
From next week, you can expect to hear it at least three times a day, every day, until the final of the World Cup. It's going to be omnipresent.
Happily, Another Star is up to the job, if the job is to bear repeated listening without becoming infuriating. Like most tracks from Wonder's 1970s "golden age", it's mesmerisingly complex as well as a lot of fun.
The lyric seems simple enough - she's ready to move on, he's not - but is one of many in which the blind Wonder uses striking imagery of sight: "Through my eyes the light of you is all I see."
And the music around this poignant tale of heartbreak is anything but mopey - it's expansive and downright euphoric. It loops and builds on a syncopated rhythm where flutes and George Benson's guitar fuse with congas and timbales. Latin America by way of Miami, this is the feel-good, carnival atmosphere that BBC Sport has in mind, and you can be sure we'll be hearing more of the "la-la-la-la-la la-la la-la" refrain than Wonder realising he "fell in love with one who would break my heart in two".
Another Star closes side four of Songs in the Key of Life - the very end of a four-album run in which Wonder relentlessly outdid himself. He had originally intended to follow his previous, Fulfillingness's First Finale, with a sequel.
Fulfillingness's Second Finale was to be a darker, socially conscious experience, but Wonder's ambition overtook him, and he spent two years putting together a double album (with bonus single) instead.
"I wanted it to be the very best I could do," he said. That entailed driving around LA maternity wards to record a newborn baby's cries for Isn't She Lovely and eventually wearing a t-shirt reading WE'VE NEARLY FINISHED when out in public.
It's striking that the epic As (covered by George Michael and Mary J Blige) is not the last track. Even its seven enormous minutes can be followed by Another Star's eight - the culmination of four years of increasing experimentation. World Cup themes need to be big - Nessun Dorma big - and Another Star is certainly that.
For Wonder, things couldn't get any bigger. So he took some time off and returned with an album called Stevie Wonder's Journey Through "The Secret Life of Plants". And why ever not?
Subscribe to the BBC News Magazine's email newsletter to get articles sent to your inbox.