Caption Challenge: Plastic Goethes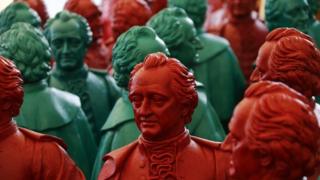 Winning entries in the Caption Challenge.
This week Johann Wolfgang von Goethe plastic statues stand in front of the Goethe University in Frankfurt.
Thanks to all who entered. The prize of a small amount of kudos to the following:
6. Graz valentine:
Some Goethe is read. Some isn't
5. Ryan Wedlock:
Risk: Gentleman's Edition
4. Nick:
As Germany's greatest poet I have to say we should nick it against England on penalties
3. Robandav:
At the traffic light ball, Amber failed to attend
2. Michael Bush:
Proof that jelly babies do age when left out of the packet
1. Andrew Sweet:
"Faust I was afraid, I was petrified..."
Full rules can be seen here
[16KB]
Follow @BBCNewsMagazine on Twitter and on Facebook