Wembley: What makes an epic paper plane throw?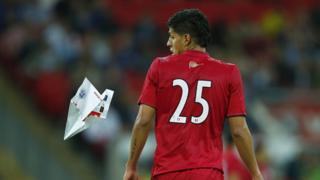 Footage of a paper plane being thrown from the stands at Wembley stadium, and hitting a player far below, has become a viral hit. But what makes a great paper plane, asks Ben Milne.
The star of England's World Cup warm-up at Wembley last Friday wasn't Daniel Sturridge, Gary Cahill or Joe Hart - it was a paper plane, thrown from the upper stands, which sailed majestically above the crowds and on to the pitch before tapping the unsuspecting Peruvian defender Hansell Riojas on the side of his head.
As a landmark of aeronautics, how does it fare? "I thought it was very good," says Andy Chipling, a paper planes expert who set the rules for the Guinness world paper plane flying record. "But with a better design you could have reached further still."
The standard "dart" design of plane - of which this was one - is built for speed, but is not necessarily the best design for achieving distance. But Chipling says the plane was probably helped in its journey by the material - a fairly stiff laminated card left out for fans to use as part of a human flag and then as a "clapper" to applaud the game. It may say something for the quality of the play that many fans used it to practise their paper-flying skills.
"Size doesn't mean planes fly better - big planes can get buffered around a bit," says Chipling. Planes will also fly further in warmer weather than when it's cold, and the lack of cross winds within the stadium may have helped the plane get that little bit further.
World records aren't kept for outdoor paper plane throwing, because of the number of variables involved. Anyway, if they did, Chipling would probably hold them. As part of a scientific project in 2011 he launched a paper plane from the edge of space above Germany which flew all the way to Australia. But he has also had his own "Hansell Riojas" moment:
"I once threw a paper plane from the gods at the Royal Albert Hall during the last night of the Proms. It hit the organist."
Follow @BBCNewsMagazine on Twitter and on Facebook