Caption Challenge: Trombone man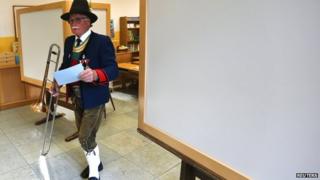 Winning entries in the Caption Challenge.
The competition is now closed.
This week a man in Tyrolean costume carries a trombone into a polling station.
Thanks to all who entered. The prize of a small amount of kudos to the following:
6. Adrain Wade, Chesham, UK:
His alpine horn was brilliant, but his trombone was a-polling...
5. Peter B Thomas, Worthing, UK:
I've got a delivery from Yodel that needs to be signed for.
4. Mb, Brighton:
He's got a lot of brass coming here dressed like that.
3. Mike, Newcastle upon Tyne:
The Hipster Party broadens its appeal to the older voter.
2. Steve Pauline, Warrington, UK:
"Sorry - am I too late to register as the Oom-pah-pah-party candidate?"
1. Jonathon, Purley:
Bored of listening to the campaigns of various politicians, one man decides to blow his own trumpet for a change.
Full rules can be seen here
[16KB]
Follow @BBCNewsMagazine on Twitter and on Facebook