Caption Challenge: Puzzled primate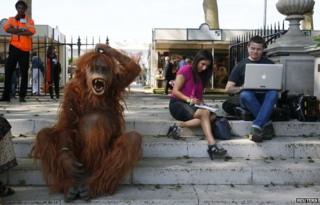 Winning entries in the Caption Challenge.
The competition is now closed.
This week, a man dressed as an orangutan sits next to members of the media at the Chelsea Flower Show.
Thanks to all who entered. The prize of a small amount of kudos to the following:
6. @johndredge:
Confusion over how to remake 2001: A Space Odyssey.
5. David Hazel:
He's got an Apple - why haven't I got a banana?
4. Mark Palmer:
"I only need 20 of my mates and plenty of time and I could write that for you."
3. Phil Lavis:
"I don't get Windows 8 either."
2. David C:
"This is an urgent customer announcement. Would Mr Attenborough please report to the corporate hospitality tent."
1. Michael Horn:
"Upper case, lower case, at least eight characters and a number! How am I supposed to remember that?"
Full rules can be seen here
[16KB]
Follow @BBCNewsMagazine on Twitter and on Facebook