Who, What, Why: What can and can't British Royal Family members say?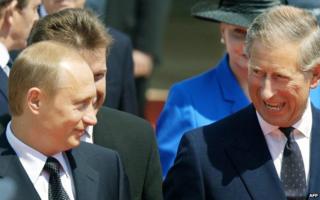 The allegation that Prince Charles compared Vladimir Putin's annexing of Crimea to Nazi actions has caused a stir. Just what can and can't the royals say?
Marienne Ferguson, a former Polish war refugee, was showing Prince Charles around a museum in Nova Scotia, Canada. They were discussing Hitler's takeover of countries, and the prince said "something to the effect of 'it's not unlike…what Putin is doing'", Ferguson later told reporters. Questions have been raised in the UK about the wisdom of Prince Charles's remarks. And in Russia, the Moskovskij Komsomolets newspaper said they risked "triggering an international scandal". So just what can and can't royals say?
All of the Queen's public speeches and actions are taken on advice from ministers, says constitutional expert Vernon Bogdanor. But other royals, including the heir to the throne, are not bound by any rules. In practice, Prince Charles shows his speeches to ministers before delivery, Bogdanor says. And the convention is that senior royals should not embarrass the Queen in either public or private statements. The key unwritten rule is to avoid party politics. Bogdanor argues that the prince's Putin remark did not overstep the mark. "It reflects a consensus among all the main parties. The comment is controversial rather than anodyne. But it is not party political."
The prince is known for sending memos to ministers on subjects ranging from complementary medicine to architecture. Guardian columnist Polly Toynbee has no problem with his opinion about Putin, but says that articulating it does not fit the future monarch's role. "If one insists on having the institution of the monarchy then you have to behave like a dumb monarch and not say a word." It was also diplomatically "impolitic", she argues, as Prince Charles is due to meet President Putin for the D-Day anniversary commemorations next month.
Getting a member of the public to spill the beans about a private conversation is a "classic royal scoop", says former royal correspondent Jennie Bond. But there's nothing wrong with what Prince Charles said, she believes. "We've got to get over this shock horror 'he's got views!' It's perfectly correct that Prince Charles should speak out on matters of social justice."
Follow @BBCNewsMagazine on Twitter and on Facebook