Which names do merged businesses discard?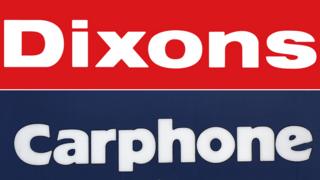 Electrical retailers Dixons and Carphone Warehouse have formed Dixons Carphone. But when two businesses merge, what's the best way to marry their names, asks Ben Milne.
Time and the financial pages will tell whether Dixons Carphone is a good name for the UK's latest electronic retail company. It's what might be termed a "cut-and-shut" solution, but it's not Dixon's first - the company's stores have mainly been trading under the name "Currys PC World" for some time. But there are many more examples.
Consider the story of the pharma giant GlaxoSmithKline, which emerged from the combination of slightly smaller giants Glaxo Wellcome and SmithKline Beecham. They in turn were the product of mergers between Glaxo and Wellcome on one side, and Beecham and SmithKline Beckmann on the other. But there's more. Much more. SmithKline Beckman was a product of a merger between SmithKline RIT and medical supplies company Beckman Instruments. SmithKline RIT was the outcome of an alliance between Smith, Kline and French Laboratories and the Belgian company Recherche et Industrie Therapeutiques. Smith, Kline and French was born in 1891 when Smith, Kline and Company bought French, Richards and Company. Smith, Kline and Company was the product of a partnership between a Philadelphia drugstore owner, John K Smith, and a former teacher named Mahlon Kline. (They experimented with the name Mahlon K Smith, but it didn't take).
It's no wonder that most people refer to the company as GSK. But initials are often what result after multiple mergers. The accountancy firm KPMG derives its present name from a 1987 merger between Klynveld Main Goerdeler (KMG) and Peat Marwick. KMG was a result of a 1979 grouping of Dutch firm Klynveld Kraayenhof, the UK/US organisation McLintock Main Lafrentz and Germany's Deutsche Treuhandgesellschaft. Try getting all those names on the office stationery.
Brand consultant John McCarron thinks it's possible that Dixons and Carphone Warehouse are being too conservative: "Novelty is highly valued in the tech market - you want the latest thing. In branding, you're trying to articulate a clear and defined personality." An alternative solution might be to emulate merging mobile phone companies T-Mobile and Orange, who merged and - while keeping their former names for each set of customers - also became EE.
But McCarron says two considerations will be at work at the new company. For the sake of shareholders, the newly merged company is "trying to unpack the equity from both brands into something new". It's also a question of building up consumer recognition: "The cost of getting a name into someone's head is extremely high."
Follow @BBCNewsMagazine on Twitter and on Facebook