Why do politicians try so hard to eat like voters?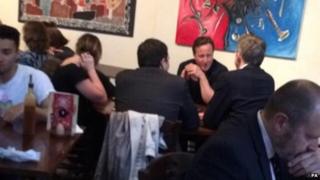 David Cameron has been photographed eating dinner at a Nando's in Bristol. It follows long line of gastronomic attempts by politicians to connect with the electorate, writes Harry Low.
The prime minister became the latest politician to eat in public when he tucked in to half a chicken, chips, coleslaw and red wine at the Portuguese eatery.
Last year Chancellor George Osborne tweeted a picture of himself munching a burger as he added the finishing touches to his spending review.
He was later derided after it emerged the snack cost £10 and was from restaurant chain Byron rather than a cheaper takeaway ("Well, McDonald's doesn't deliver," Osborne said at the time).
The opposition are just as keen to use food for political gain. Labour leader Ed Miliband and Ed Balls, the shadow chancellor, visited a branch of Greggs with cameras in tow in protest at the decision - later reversed - to apply VAT on the cost of pasties and sausage rolls.
Eating in public is also contentious in the US, too. New York Mayor Bill de Blasio was lampooned by the American media in January for eating pizza with a knife and fork rather than with his hands.
John Street, professor of politics at the University of East Anglia, believes the prime minister's choice of restaurant was quite deliberate.
"It is one of the ways politicians try to illustrate that they are just like the rest of us" he says.
"It clearly is indicative of wanting to appear in a sense like the ordinary citizen because presumably David Cameron can afford to eat in places more upmarket than Nando's.
"If he was entertaining Angela Merkel, he wouldn't take her to Nando's."
Although, as Street points out, the prime minister did take Francois Holland for a pub lunch in January.
"This raises another question about the role of food. On the one hand, it is used for proving a politician's street credentials and on the other to impress during international relations."
Cameron's efforts to gain credibility with voters mark a shift away from the methods of previous prime ministers.
"Tony Blair's technique to show that he was both one of us and quite cool was to pick up a guitar or head a football with Kevin Keegan.
"This is something rather different," Street adds.
Follow @BBCNewsMagazine on Twitter and on Facebook