Caption Challenge: Duck and cover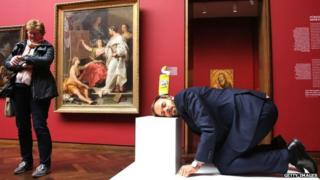 Winning entries in the Caption Challenge.
The competition is now closed.
This week a man crouches with a bottle of toilet cleaner on his head at the Stadel Museum, Frankfurt
Thanks to all who entered. The prize of a small amount of kudos to the following:
6. Andy Welcome:
Bringing the fourth plinth inside from Trafalgar Square wasn't the success the curator at the National had envisioned.
5. Andy Lake, Richmond:
Proof found. Cleanliness really is next to Godliness.
4. Bob C:
"Ninety-five, 96, 97, 98, 99, 100... Ready or not, here I come. And this time, please try and hide somewhere that I won't find you!"
3. Smilex:
A clear fusion of Headonism and Art Ducko.
2. Philip Parkin:
"Some modern art is just too sanitized."
1. William Walker:
"You can get up now. The Turner prize shortlist has been announced, and you aren't on it."
Full rules can be seen here
[16KB]
Follow @BBCNewsMagazine on Twitter and on Facebook