Fulham's relegation and the curse of Michael Jackson's statue
Magazine Monitor
A collection of cultural artefacts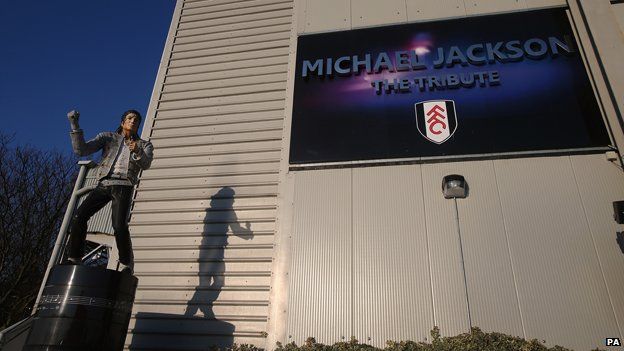 London's oldest club, Fulham FC, has been relegated from the Premier League for the first time in 13 years. Could the absence of a "lucky" Michael Jackson statue have been part of the problem, asks Patrick Heery.
Pundits have pointed to an ageing squad and the perils of having three managers in one season and a hopeless defence as the key reasons for Fulham's woes. But former chairman Mohamed al-Fayed has pointed to a different culprit - Michael Jackson. Or rather, the garish statue of the king of pop, which the Egyptian tycoon commissioned for Craven Cottage, the club's ground.
Jackson's connection to the club was tenuous at best. A friend of al-Fayed's, he once visited the ground and walked around the pitch before a Wigan game in 1999. Some fans criticised the statue as not being in keeping with the club. But when he sold Fulham in 2013, Al-Fayed warned new chairman Shahid Khan he would regret taking the "lucky" statue away.
But how lucky was Jacko's statue? It was unveiled in April 2011, just before a home game against Blackpool which Fulham won 3-0. The Cottagers went on to finish eighth that season, ninth the following season and 12th the season after. All very respectable finishes for the SW6 side.
A new chairman with new views meant that on 25 September 2013, having just beaten Everton in the Capital One Cup in Fulham's best performance of the season to date, the statue came down. The first Jackson-less game was at home to newly-promoted Cardiff City - a game Fulham fans expected to win. But with the musical talisman gone, they went down to a home defeat. The season never really recovered. Back-to-back wins gave some hope that any hoodoo had been defeated but then thumpings came on a regular basis.
The win ratio with the statue was 33.7% (played 89 - won 30, drew 23, lost 36) and the ratio without was a mere 25% (P32 W8 D3 L21). As any stat-lover knows, correlation is not causation, but as Jackson himself would have said of the numbers, they're bad, they're bad - really, really bad.