On the Move: How Bob Hoskins helped adults learn to read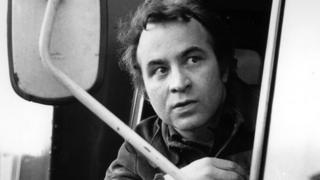 British actor Bob Hoskins, who died aged 71, was the star of several big-screen blockbusters. But his early role in a BBC adult education series made a different kind of impact, writes Jon Kelly.
"On the move, on the move, we're on the move again," crooned 1970s cabaret-poppers The Dooleys over the opening credits. There followed 10 minutes of clips and sketches aimed at helping adults overcome literacy problems. It was an unlikely setting from which to launch a Hollywood career.
But each episode of the 1976 BBC series On the Move featured a running storyline in which the late Bob Hoskins appeared as Alf Hunt, a furniture removal man who had difficulty reading and writing. A proud but sympathetic character, Alf would open up to his friend Bert, played by Donald Gee, about his fears and frustrations. His progress as he sought help attracted a huge following well beyond the show's target audience.
Up to 17 million people watched the Sunday tea-time programme, according to George Auckland, who would subsequently take charge of the BBC's adult education programming. It was Alf's human drama - and, specifically, Hoskins's captivating performance - that drew them in. A national campaign to tackle illiteracy was boosted by the series. On the Monday after each episode, says Auckland, "there would be queues around the block" at adult literacy centres. There's a strong argument, he says, that this makes Hoskins "the best educator Britain has ever produced".
Auckland recalls a scene, reminiscent of Hoskins's famous closing shot in The Long Good Friday, "in which you can see the exasperation on his face" as Alf struggles with his homework. Writing in the Guardian, Mark Lawson noted approvingly that Hoskins "gave Alf a vulnerability and poignancy far beyond the requirements of a public information short". GQ praised "the equally light touch he displayed with both a removal van and a personal pronoun".
After On the Move, Hoskins became a star, first in the UK in the wake of the TV drama Pennies From Heaven and then internationally with the success of movies like Mona Lisa, Who Framed Roger Rabbit? and Enemy at the Gates. To each role he brought the same unmistakable screen presence he bestowed on Alf.
Follow @BBCNewsMagazine on Twitter and on Facebook