Smashed Hits: Like a Rolling Stone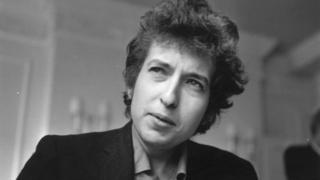 Bids of up to £1m are expected for the original handwritten lyrics of Bob Dylan's Like a Rolling Stone, writes Alan Connor. Can words on paper convey the effect of what the songwriter described as "this long piece of vomit"?
"Now you're gonna have to get used to it," spits Dylan. This was a message already delivered many times by a figure known for his messages. Hard rain is coming, just as chimes of freedom are flashing.
But in earlier songs like When the Ship Comes In, there's no vomit to be seen. The language is sermon-like and the change that's coming is the righting of eternal injustices. The Times They Are a-Changin' owes not a little to the Sermon on the Mount's "Blessed are the meek, for they shall inherit the earth". That earlier Dylan could be reassuring, even. You can imagine The Times They Are a-Changin' coming from a gospel choir. Like a Rolling Stone, from 1965, is anarchy, and Dylan sounds like he's enjoying it.
It's also, like Pulp's Common People three decades later, addressed not to society but to an individual. One woman can't take for granted her place in the world - and Dylan stalks her through the chaos, pointing, practically laughing. And the language is not biblical but hip and modern - with enough jugglers and Siamese cats mixed in to make it absurdly timeless.
There's so much language - the single was shipped to DJs split across two sides, and even as side two fades, it seems Dylan could go on indefinitely, yelping through all the original lyrics on the four pages of hotel stationery. And that delivery, and the music surrounding it, conveys the spirit of Like a Rolling Stone as much as its words.
The song was a new peak in a year which saw musicians outdoing each other at giddying speed. How about this, it asks - a startling short story with shuffling chords out of Twist and Shout? It's noise to be played loud in a car, not reverentially from a Dansette. In 1991, Dylan fans were astonished to hear an early take which did not begin with that mortar-shell drum noise - and which turned out to be a steady waltz. It's Like a Rolling Stone in name only, because the song's legacy is as a raucous recording, not a set of lyrics. Whoever buys the original will have something of value, to be sure, but is it worth pawning a diamond ring for?
Follow @BBCNewsMagazine on Twitter and on Facebook