Caption Challenge: Naughty-looking man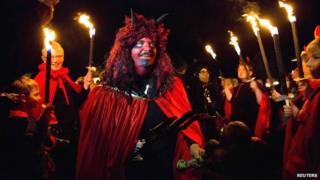 Winning entries in the Caption Challenge.
The competition is now closed.
This week a man dressed in a devilish sort of costume gets a guard of honour at a Norwegian pagan festival.
Thanks to all who entered. The prize of a small amount of kudos to the following:
6. Adrian Wade:
Defence cuts had somewhat reduced NATO's Trident deterrent.
5. Bob Hammersley:
Chipping Norton residents react to news that Britain is a Christian country.
4. Steve:
The defendant admitted threatening behaviour and wearing a shower curtain in public, but claimed that the carol singers had been disturbing his sleep since December.
3. Chris:
May 2018: As the new Archbishop of Canterbury is enthroned, some Anglicans believe the church's policy of inclusiveness has gone too far.
2. David Lefeuvre:
HR were becoming increasingly concerned about Nev from the Call Centre's initiation training for new recruits.
1. David Nixon:
Tonight we make our divine sacrifice to Satan. But first, the tombola and jam tasting.
Full rules can be seen here
[16KB]
Follow @BBCNewsMagazine on Twitter and on Facebook