The problem of re-inventing spectacles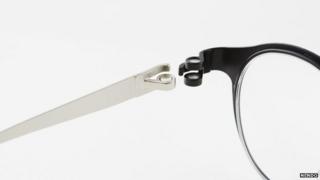 Innovations such as Google Glass have attracted much attention, but how tricky is it to re-design a classic pair of glasses, asks Jon Kelly.
1. Magnets, not screws. Hinges on specs are always liable to snap or come loose, necessitating holding them in place with sticking tape or a plaster in the style of Coronation Street's Jack Duckworth, played by the late Bill Tarmey. Japanese company Nendo has developed glasses which use disc-shaped magnets in the arms and on either side of the frame - thus "making them harder to break", according to the technology blog Gizmodo.
2. Anti-fog coating. Having one's spectacles mist over is a frequent annoyance for eyeglass-wearers. But in 2013 a patent for an anti-fogging solution was obtained by US corporation Kimberly-Clark. It would involve running an electric current through the graphene-based coating to heat the surface of the glass and prevent condensation.
3. D-shaped lenses. Benjamin Franklin's invention of the bifocals lives on to this day. Less celebrated are "railway spectacles". In 1797 John Richardson patented four-lens glasses which rotated in from the sides. They became popular in the 19th Century when train travellers sought to protect their eyes from wind, smoke and sparks from the track.
4. Illuminated spectacle frames. In 1970 inventor Joachim Tatje filed a patent for "Illuminating spectacles for working in the dark". Batteries were concealed in the frames. Variations on this innovation remain popular with the likes of theatre stage managers, people who enjoy reading in bed and brothers Paul and Phil Hartnoll, better known as the ambient techno duo Orbital.
5. Glasses for chickens. Farmers have long sought to prevent groups of chickens pecking each other. As far back as 1903 the first patent for an "Eye-Protector for Chickens" was filed. Rose-tinted chicken spectacles, designed to prevent the animals seeing blood, followed in the 1930s. It's arguably more fundamental an innovation than anything we have seen in relation to the basic design of human glasses over the past century. The classic template is a difficult thing to fundamentally rethink. But according to inventor Dominic Hargreaves, the developments in digital eyewear are fascinating. "The spectacle has had seemingly limitless variants," he says. "But the archetype still stands. It's basically two lenses and a frame."
Follow @BBCNewsMagazine on Twitter and on Facebook