Caption Challenge: Flower power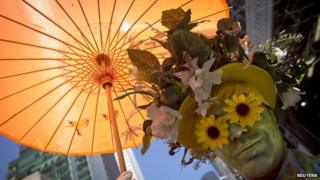 Winning entries in the Caption Challenge.
The competition is now closed.
This week a man takes part in an Easter parade.
Thanks to all who entered. The prize of a small amount of kudos to the following:
6. Simon Rooke:
Florist Gump.
5. Adrian Wade:
After four pints of Flowers, anything seemed possible.
4. Graz Valentine:
"How dare you suggest that I look at the world through rose-tinted spectacles."
3. Catherine O:
Baby oil... baby bio... could happen to anyone.
2. Matt Lennox:
Scott McKenzie was eventually persuaded that "Be sure to take a parasol, some shades, a face pack and wear flowers in your hair" just didn't scan.
1. David C:
"Can you suggest anything to help with my hay fever?"
Full rules can be seen here
[16KB]
Follow @BBCNewsMagazine on Twitter and on Facebook