Caption Challenge: Predator - winning entries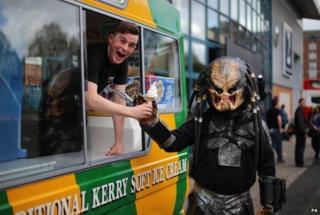 Winning entries in the Caption Challenge.
The competition is now closed.
This week a person in a Predator costume wants an ice cream.
Thanks to all who entered. The prize of a small amount of kudos to the following:
6. Luke:
The recession takes a continued toll on Hollywood stars as Ryan Reynolds has a rare treat.
5. Tim Foster:
Foolish human, hand over your weapon!
4. Comeinski:
Gwyneth had to be discreet when indulging in comfort food.
3. Saty:
So you read about our ice creams on Trip Advisor?
2. Mig Bokken:
So they do have a weakness.
1. Vern Middleton:
Alan vs Predator
Full rules can be seen here
[16KB]
Follow @BBCNewsMagazine on Twitter and on Facebook