Victorian strangeness: Grave tale of daughterly love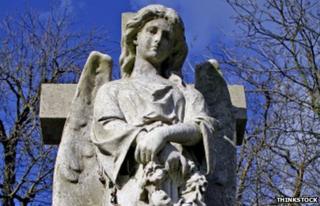 On the weekend of Mothering Sunday, author Jeremy Clay tells the singular story of a dying wish, a dutiful daughter and a mum with two graves - 4,000 miles apart.
Claire Taylor was as good as her word. She'd made her promise, and she was going to stick to it. And so, on a spring day in 1891, she set out from her home in Midwestern America to honour her mum's dying wish. It wasn't a simple undertaking. For a start, there was the matter of an 8,000-mile round journey to Europe and back. And then… well, then there was the contents of her luggage. Dr Taylor was travelling with three ebony cases, each numbered and bearing a single-word inscription in silver-headed nails: Mother. In one, was her mum's heart, in the second, her feet, in the last, her hands. All had been pickled for three years in alcohol.
Struck blind by lightning in her 60s, the unfortunate Mrs Verge had died of a stomach tumour in 1888 in her daughter's house in the Indiana town of Peru. She was buried without a service in nearby Somerset. It was a one part of a macabre compromise. Mrs Verge was French, and wanted to be laid to rest in Normandy. Knowing that wasn't to be, for reasons left untold in the newspaper reports of the time, she agreed to be buried largely in the US, if her daughter vowed to take a small selection of her anatomical highlights on a return trip across the ocean.
Soon after she died, two doctors, the undertakers and what the Miami County Sentinel called "a few curious spectators" gathered at Dr Taylor's home to segment Mrs Verge. It would be three years before Dr Taylor left for New York, on the first leg of her pilgrimage to Normandy, with what the Gloucester Citizen called her "ghastly burden". "But her fame preceded her," said the Citizen, "and the landlord of the hotel in New York refused to admit her unless the boxes were sent to the baggage room and left there."
Dr Taylor agreed and busied herself until her Atlantic crossing. Until it was discovered that Box No. 2, containing the feet, had vanished. "There was a dreadful scene," said the Citizen. The hotel was searched and telegrams were fired off in every direction, but to no avail. It wasn't until several hours later, with Dr Taylor frantic with worry, that a message arrived from Boston, from a traveller who had been staying at the same hotel. "Have among my trunks a small black box marked Mother No. 2. Did I take this with me by mistake?"
"This morning they were returned by express and Mrs Taylor is once more quite happy," noted the Citizen. "She will now sail for England on Wednesday and unless the steamship company make objection to her bringing her three rather gruesome ebony boxes with her, she will within two weeks be able to carry out her mother's wishes and bury the hands feet and heart in the spot indicated."
Discover more about what life was like in Victorian times and 10 truly bizarre Victorian deaths.
Follow @BBCNewsMagazine on Twitter and on Facebook