Caption Challenge: Winning entries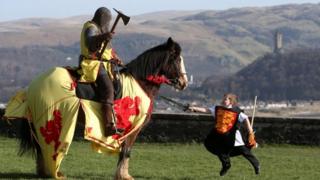 Winning entries in the Caption Challenge.
This week a mounted knight is accosted by a sword-wielding child in a reconstruction to mark the launch of "Bannockburn Live" at Stirling Castle.
Thanks to all who entered. The prize of a small amount of kudos to the following:
6. Rogueslr:
If only devolution were this simple
5. Ian Moore:
Boy: Come on then!
Horse (to rider): Leave it! He's not worth it
4. Dick Langford:
Horse to knight: I thought you said these little people would be playing bingo and drinking
3. Mike Emmett:
A stepladder, a stepladder, my kingdom for a stepladder!
2. Andrew Knight:
Budget cuts force Game of Thrones new series to be scaled down
1. Robandav:
Since the clocks went forward I've noticed the knights are getting shorter
Full rules can be seen here
[16KB]
Follow @BBCNewsMagazine on Twitter and on Facebook