Caption Challenge: Stately umbrellas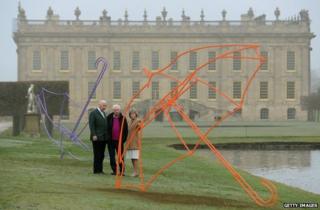 Winning entries in the Caption Challenge.
The competition is now closed.
This week, Irish artist Michael Craig-Martin (centre) discusses his giant umbrella sculptures with the Duke and Duchess of Devonshire at Chatsworth House, the couple's stately home.
Thanks to all who entered. The prize of a small amount of kudos to the following:
6. Adrian Bamforth:
"It looks like reign."
5. Rob Langevoort, Niskayuna, New York, USA:
"First episode of ... Downpour Abbey!"
4. Laura Doom, Poole, UK
"Is the Emperor expecting rain?"
3. John, Sevenoaks, UK:
BBC producers discuss a possible location for Jane Austen's unfinished novel Precipitation.
2. Simon Cleverly, Hastings, UK:
"No Jenkins, I said bring us two large Bollies."
1. Steve Wilson, Bristol, UK:
"They are specifically designed to allow a clear sight of Colin Firth coming out of the lake."
Full rules can be seen here
[16KB]
Follow @BBCNewsMagazine on Twitter and on Facebook