Rokeby Venus: The painting that shocked a suffragette
Magazine Monitor
A collection of cultural artefacts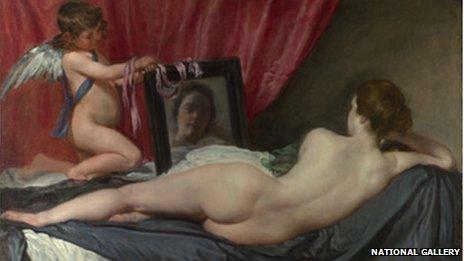 A century ago a painting in the National Gallery was slashed by a suffragette. But what is it about this Velazquez nude that makes it so provocative, asks Tom de Castella.
It's the last word in sensual languor. And one of the most famous bottoms of all time. But 100 years ago the Rokeby Venus was attacked as it hung in the National Gallery. The painting took at least five slashes with a meat chopper. Its attacker, Mary Richardson, a suffragette who later became a disciple of the fascist Oswald Mosley, was protesting against the arrest of Emmeline Pankhurst. "Slasher Mary", as the press dubbed her, later admitted that it wasn't just the picture's value - £45,000 in 1906 - that made it a target. It was "the way men visitors gaped at it all day long".
It is one of the most erotically charged images of that or indeed any age. "She is seen as the paradigm of female beauty," says Times art critic Rachel Campbell-Johnston. An unknown model reclines on a bed with her back to the painter. The bottom has a 3D quality.
"The passages of paint make it seem like the painter is touching her," Campbell-Johnston says. The flirty quality is rounded off by Cupid's mirror, which gives the viewer a sense that she is looking back at them. The face appears much older than her body, notes Evening Standard critic Brian Sewell. "It's a warning about beauty being ephemeral, nothing lasts forever."
There are more revealing nudes. Goya's La Maja Desnuda sends out a message along the lines of "come and get me boys", writer Rowan Pelling suggested on a BBC documentary Velazquez - Private Life of a Masterpiece. Rokeby though is "what you can't quite have and what you don't quite know about" and thus far more desirable. All with a Yorkshire twist. Velazquez painted Toilet of Venus - the painting's more proper name - for Spain's Royal Court in the mid 17th Century. But after the Napoleonic War it popped up in a mansion called Rokeby Park in part of Yorkshire that is now County Durham, before eventually ending up at the National Gallery. It has been faithfully restored since the slashing. Unlike the fleshy nudes of Titian or Rubens, it is a very modern female form. And yet still a million miles from Miley Cyrus's Wrecking Ball.