Is this the end of the school bell?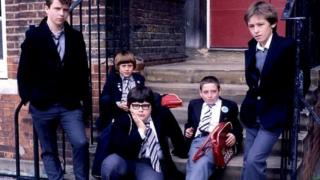 A school in Salford has replaced its bell with music to mark the beginning and end of lessons. Is this the end of the school bell, asks Denise Winterman.
The bell can be one of the most cheerless sounds to puncture the school day or the sweet sound of freedom, all depending when it's rung. But for students at St Ambrose Barlow RC High School in Salford it no longer dictates their day. It has been scrapped in favour of music. A 30-second instrumental version of a Beatles' song or a track from the Lion King now breaks up the timetable of the school day.
Some days the school has a theme - Abba, film soundtracks and disco have all been popular. European national anthems were recently used to tell pupils when their lessons started and finished as the school had a Europe day. It's also planning a World War One-inspired soundtrack to mark the war's centenary. Students can also make requests.
"I want students to like being at school and that means making it enjoyable, even how it sounds," says head teacher Marie Garside. "The students love the music. They really listen to the songs and often ask what certain tracks are so it creates an opportunity to teach them something. You often see them dancing and singing along in the corridors as they go about their business, it really lifts the mood."
The traditional school bell has been losing its appeal for a while. Teaching unions have had their issues with it. If it's rung too loudly it can damage the hearing of pupils and staff, they've previously warned. Although the same can be said of a Abba soundtrack. The idea looks like it could catch on. Garside says she's had a lot of calls from other schools interested to find out more. And does she feel any nostalgia for the shrill ring of the old school bell? "I don't miss it at all. It was piercing, like a drill. No-one wants to listen to that."
Follow @BBCNewsMagazine on Twitter and on Facebook