The Loop: A 'trifle' of a football kit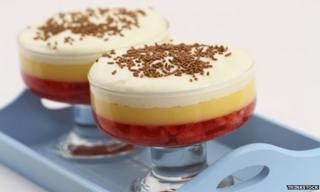 Welcome to The Loop, the Magazine's letters column, including the best of your thoughts from Twitter and Facebook.
This week, Scotland unveiled its new away strip. The pink, yellow and white design was not met with universal approval, wrote Steven Brocklehurst.
Reader Megan was in the no camp: "The purpose of a football strip is to make your players stand out from t'other lot. In this, they have succeeded admirably. But what's Scottish about running around looking like a plate of trifle?"
But Haematoma was channelling the power of positive thinking. "It's probably a fitting homage to Lord Rosebery, when the Scotland team wore his colours in the 1900 Home Championship match against England they won 4-1. Might there be good omens? We can only hope."
And a reader named qwerty hit the nail on the head in writing: "This will be controversial I know." Before going on to state: "I actually quite like these strips! I even owned the salmon pink one we had years ago. In my opinion its a nice change from having a boring all white or yellow strip again."
Australian team Perth Glory always use a combination of purple and orange for their strips, says James from New Zealand. "Two colours which never do anything other than clash. This was especially the case in the late 1990s, when their sponsor's logo, emblazoned on the front, was bright red and yellow." Nice
The article that garnered the most comments from our readers was Jon Kelly's The lost era of the A-Z map? The digital revolution may have threatened to kill off paper-based cartography, but could the street map ever be in for a revival, he asked.
A new musical has opened celebrating the life of Phyllis Pearsall, who walked 3,000 miles to create the atlas of London, which first went on sale in 1936.
Albert Marsh from Kent contacted us to tell us about his involvement with the woman who became known as Mrs P. "I joined Geographers as carto draughtsman in 1960 (having left the Ordnance Survey and was interviewed by Mrs Pearsall, being offered said position for a remuneration unheard of within the OS) at a time when all their maps were hand lettered. I was instrumental in helping produce their first typeset lettered map (a special edition of the City of London) with its new format of colour-coded roads, parks etc. Whilst only being with the company for a year, I enjoyed the company of a grand bunch of lads and an eye-opening vision into the commercial ways of mapping."
Robert Scott shared some information about the colours of roads of maps. "For about the first 40 years of the coloured London A to Z, the only road colours used were yellow and white, with yellow representing bus routes (which explained why some narrow roads were yellow, while a few large roads were white)," he wrote. "My dad explained that to me, and whenever I tested it, it appeared to be true, but I never found anything in the key to confirm it. Perhaps they had mentioned it on the early editions, then stopped updating the bus routes and quietly dropped it from the key."
Many, many people emailed in to say how useful they still found paper maps, including Harvey Manning who lives in Japan. "My son and his friends are always asking where towns are located as they have been brought up in the GPS era so they have no clear idea or where owns are. But I have always used maps and its easy for me to visualize road maps in my head."
Finlo Rohrer's article on the people who mourn the discontinuation of Ikea furniture lines was a topic of debate on the Magazine's Facebook page.
Stephen 'Scratch' Perry thought that that this behaviour was little more than "Grown adults behaving like children who've been told there's no more sweets," he wrote. "Grow up, buy some wood and screws and build your own." That's one way of making sure it won't ever be discontinued.
The subject of the article was the firm's Expedit shelving units, which are undergoing a change. But people seem to like them because vinyl fits so nicely into the units.
Darryl from London thought it absurd that people would still care about where to put their albums. "Hmmm... grieving the discontinuation of the manufacture of an iconic piece of furniture I can kind of just about understand (at a stretch), but for the reason that it is the right size for storing vinyl LPs! In 2014? Seriously?"
But Andy Welcome has another use of them. "They are also the ideal size for crash helmets," he wrote. "I've got a 2x4 stacked on top of each other, top half full of crash helmets, looks cool and keeps them away from my little lad."
Easy rider with style.
Follow @BBCNewsMagazine on Twitter and on Facebook