The beauty/horror of the garish new Scotland away strip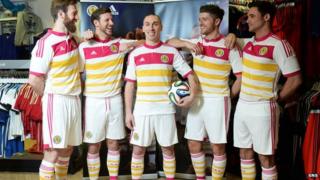 Scotland's new "rhubarb and custard" away kit has not met with universal approval. Why, asks Steven Brocklehurst.
Pink is not, for some reason, a popular colour for a football kit. There have been exceptions - a number of Juventus away strips and a migraine-inducing Everton strip from 2010-11.
But the new Scotland strip seems to take fuchsia and then combine it with yellow hoops in a fashion statement that demands a reaction. In the world of Twitter, that reaction has been ridicule. The kit has already been compared to old-school British confectionery such as Refreshers, Fruit Salad sweets and Drumsticks. Basically any day-glo, sickly-sweet penny-chew. To others the new kit brings to mind the nightmarish vision of Mr Blobby bearing down on goal or Ronald McDonald capering down the wing and, yes, the extra dimension of Scottish ginger hair and the fuchsia kit is frequently mentioned. The Tartan Army would look more like the Battenberg Army wearing the kit some say, this time referring to cake instead of sweets, and faux fashionistas ask if the outfit comes with a matching handbag.
Scotland midfielder Scott Brown, who bravely modelled the kit at its launch, said it would make the team "stand out" from the crowd. He is also reported to have said that it brought out his eyes.
According to the SFA, the kit is a homage to the colours of Lord Rosebery, first worn in the 1880s. Rosebery was a 19th Century Liberal prime minister as well as a patron of Scottish football. His name was Archibald Primrose and it is his racing colours the current Scotland team will be sporting when they play away in the Euro 2016 qualifiers.
Despite the jokes and the weight of negative comment, it is not difficult to find people who think the kit is rather natty. And even for those who hate it, there's surely no way it can be placed in the great pantheon of terrible kits.
There have been many selections of strips that are truly excruciating assaults on the senses.
Send any that have particularly appalled you using the form on the right.
Follow @BBCNewsMagazine on Twitter and on Facebook