Caption Challenge: Panda-monium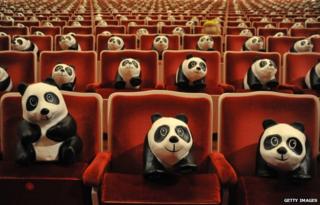 Winning entries in the Caption Challenge.
The competition is now closed.
This week a paper rhacophorus arvalis (farmland green tree frog) is surrounded by paper pandas at the National Theatre in Taipei, Taiwan.
Thanks to all who entered. The prize of a small amount of kudos to the following:
6. Ben:
Not everyone was happy with the bamboo-only snack policy.
5. Sam Mansfield:
It was a great play until one of the audience members croaked.
4. Lelystad:
"If you want someone to kiss you, you'd be better off sitting in the back row."
3. Andrew Cameron:
Noah decided it was time to rethink his plan.
2. Samantha Gardner:
No one was willing to acknowledge the obvious frog in the room.
1. Sam:
As the animal parliament assembles, the tree frogs can't help but feel the system is skewed against them.
Full rules can be seen here
[16KB]
Follow @BBCNewsMagazine on Twitter and on Facebook