Ikea Expedit: The people who mourn for discontinued Ikea lines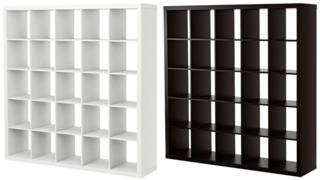 The past week has seen an extraordinary outburst of anger and sadness after Ikea discontinued its Expedit shelving units. Why do some people get so upset over the end of an Ikea line, asks Finlo Rohrer.
The headlines have been alarming. "Ikea has killed off Expedit, leaving me sad, angry and confused." Sad, angry and confused. "10,000 people join Facebook campaign after Ikea discontinue vinyl shelves." An actual campaign. "Ikea Just Discontinued Its Most Popular Shelving System And Customers Are Furious." They're furious. "Ikea upset all the record collectors in the world." Not some, all. "Shelf life: An Ode to the Ikea Expedit." An ode, as in an ode to a dear friend.
For those who have not been grieving the past week, the Expedit is a shelving unit of square compartments that is the ideal size for vinyl LPs. But people put all sorts in there. Or nothing much. "The proportions of the Expedit when empty are very beautiful," says Sara Norrman, editor of Hemma magazine, covering Swedish design and culture. "The genius about their products is they are so unassuming. It shapes itself after your personality."
The level of angst over the Expedit's demise is even more curious when one finds out that Ikea is replacing it with a virtually identical piece of furniture, the Kallax. It's basically a skinnier version that uses less wood.
But there is something of a global Ikea mini-cult. Entire websites are dedicated to Ikea customisation and fans delight in reminiscing over discontinued lines. There's a resonance in the death of an Ikea line simply because the firm keeps them going so long - 19 years for the Expedit. We see them all the time in our own and other people's homes. "When we lose them we lose a common denominator," says Norrman. "The way we are slightly connected to one another." The length of time Ikea keeps its ranges lets people get used to the idea that they can build their living rooms and bedrooms around them. "My Expedit is filled with my husband's vinyl collection," says Norrman. "If he buys more we can't store it in the same way."
Follow @BBCNewsMagazine on Twitter and on Facebook