Caption Challenge: Man runs past giant hedgehog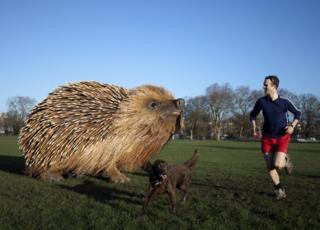 Winning entries in the Caption Challenge.
The competition is now closed.
This week a man runs past a giant hedgehog on Clapham Common, London, to mark the launch of a new Sir David Attenborough series.
Thanks to all who entered. The prize of a small amount of kudos to the following:
6. Martin Webster:
For God's sake Marjorie, your not supposed to give them milk!
5. Dodie James:
Fenton! Fenton! FENTON! Oh…
4. Matt Whitby:
Hog, dog and jog.
3. Matt Whitby:
Hog, dog and jog.
2. Lin Vegas:
Hedgehog to runner: "Heh! Call those spikes?"
1. Chris Upton:
With just seven minutes until the 5-a-side tournament, Bob still needed two more players.
Full rules can be seen here
[16KB]
Follow @BBCNewsMagazine on Twitter and on Facebook