Sandbags v flood boards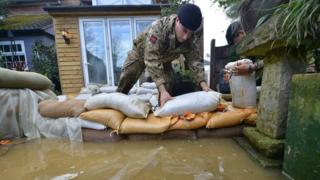 Households have been rushing to protect their homes with sandbags as floods continue to batter the UK, but are flood boards a better solution, asks Vanessa Barford.
Over recent days, it has been a case of sandbags at dawn.
Anxious home owners have been stockpiling them. Council workers and the Army have been laying them. Even the Duke of Cambridge and Prince Harry have been moving them.
On Thursday, David Cameron said the government would foot the sandbag bill after it emerged two councils had started charging residents.
And in Surrey, Alex Tribick from the Spelthorne Business Forum said the local currency had "changed from the pound to the sandbag".
But are these sought-after sandbags really the best way to protect people's homes?
After the floods of 2007 a report by Sir Michael Pitt recommended phasing out sandbags, saying they had limited use. He advocated using "flood boards" to block doorways and air brick covers instead.
Although the Environment Agency helps councils issue sandbags, it agrees they are "ineffective for groundwater flooding", but says they are cheap and easy to obtain and can provide protection for short periods of time, especially when used with plastic sheeting.
It cites sandbags' "pitfalls": they are time-consuming to lay and fill, difficult to handle and susceptible to water seepage.
Tim Collingwood, managing director of Flood Control International, a Devon company that supplies flood defence systems, thinks sandbags also give people false hope.
"There's an awful lot of effort involved and they are not effective at all - I've rarely seen a photograph of a sandbag wall without water on both sides of it," he says.
As well as letting water through, sandbags become contaminated waste once soaked with filthy floodwaters full of bacteria, creating disposal problems, he adds.
Collingwood thinks plywood, with a silicone sealing, is a better solution.
But he says purpose-made flood protection products such as aluminum or steel boards that slide into place - and it's proven water can't go though - or even a glass wall are more long-term solutions that can quite easily be installed without a last-minute panic.
One potential problem is cost. A board can cost between £500 to £1,000, while a piece of plywood and silicone can cost about £20-£30, he says.
But Mary Dhonau, chairwoman of the Flood Protection Association, thinks sandbags are a total waste of money.
She told the Financial Times she wants "Ban the Sandbag" to be written on her gravestone.
Follow @BBCNewsMagazine on Twitter and on Facebook