Cliff and Morrissey: Is it really so strange?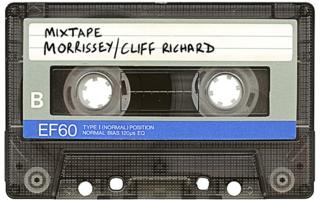 Morrissey and Cliff Richard have announced they are to appear in concert together.
But are these two living legends of British pop music really so different, or are they in fact soul brothers from different mothers? Compare and contrast the lyrical evidence on our Morrissey/Cliff mix tape:
On music radio:
Cliff: AM, FM, I feel so ecstatic now, it's music I've found, and I'm wired for sound. (Wired For Sound)
Morrissey: Hang the blessed DJ, because the music that he constantly plays, says nothing to me about my life. (Panic)
On the single life:
Morrissey: I will live my life as I will undoubtedly die - alone. (Will Never Marry)
Cliff: "Son you are a bachelor boy, and that's the way to stay. Son, you be a bachelor boy until your dyin' day." (Bachelor Boy)
On anniversaries:
Cliff: Congratulations, and celebrations, when I tell everyone that you're in love with me. (Congratulations)
Morrissey: I've come to wish you an unhappy birthday, because you're evil and you lie. (Unhappy Birthday)
On Christmas:
Cliff: Christmas time, Mistletoe and Wine. Children singing Christian rhyme (Mistletoe and Wine)
Morrissey: And the turkey you festively slice, is murder... (Meat Is Murder)
On love:
Cliff: Once in every lifetime comes a love like this. I need you and you need me... (The Young Ones)
Morrissey: No, it's not like any other love. This one is different - because it's us (Hand In Glove)
On vacation:
Cliff: We're all going on a summer holiday, no more working for a week or two. Fun and laughter on our summer holiday - no more worries for me or you, for a week or two. (Summer Holiday)
Morrissey: Nothing appears to be between the ears of the lazy sunbathers. Too jaded to question stagnation, the sun burns through to the planet's core, and it isn't enough, they want more. (Lazy Sunbathers)
Final question: Who said this - Cliff or Morrissey?
"David [Bowie] quietly tells me, 'You know, I've had so much sex and drugs that I can't believe I'm still alive,' and I loudly tell him, 'You know, I've had so little sex and drugs that I can't believe I'm still alive.'"
Follow @BBCNewsMagazine on Twitter and on Facebook