Caption Challenge: Pointed observation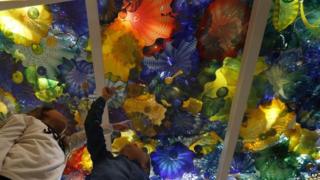 Winning entries in the Caption Challenge.
This week, two children pose underneath a glass sculpture by artist Dale Chihuly at the Halcyon Gallery in London.
Thanks to all who entered. The prize of a small amount of kudos to the following:
6. CindyAccidentally:
"And today on Play School, we're going to look through... The stained glass window."
5. IABP:
Laurence Llewelyn-Bowen's Sistine Chapel makeover unveiled.
4. Steve Hayward:
Testing for the Mary Poppins role reaches a climatic conclusion as all but two candidates concede defeat.
3. Whatever Next:
Elton John's conservatory was a little OTT.
2. Nick Rabin:
Child 1: What's that?
Child 2: It's an unacknowledged discriminatory barrier that prevents women and minorities from rising to positions of power or responsibility.
Child 1: It's really pretty.
1. Simon Cleverly:
Children warned of the dangers of playing inside giant pencil sharpeners.
Full rules can be seen here
[16KB]
Follow @BBCNewsMagazine on Twitter and on Facebook