The allure of searching for hidden 3D images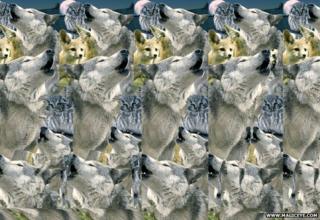 A music video has revived the genre of the autostereogram, better known under the trademark Magic Eye. Could this most 1990s of optical illusions make a comeback, asks Jon Kelly.
If you stared and squinted long enough at the computer-generated tie-die pattern you were rewarded with a unicorn, or perhaps some kind of eagle, leaping out of the page towards you. Apparently. It never worked for me, although I wasted countless hours of my adolescence searching fruitlessly.
A widely-shared music video by Canadian indie-rockers Young Rival revives the autostereogram - which creates a 3D effect from a 2D image - though the animation is not endorsed by Magic Eye Inc, whose owners sparked the 1990s' most psychedelic fad. Magic Eye books were a publishing phenomenon, with three volumes selling 25 million copies and spending a combined 73 weeks on the New York Times bestseller list. Untold numbers of Magic Eye posters leapt out from the bedroom walls of check-shirted teenagers, to the strains of Jeremy by Pearl Jam or What's Up? by 4 Non Blondes. I certainly wasn't the only one who had trouble with them, however. Comedies from Seinfeld to Mallrats to Friends mined the frustrations of the minority of us who just couldn't un-focus our eyes correctly.
The earliest autostereograms were developed by 19th Century scientists Charles Wheatstone and David Brewster. But it wasn't until 1991 when Massachusetts-based engineer Tom Baccei and artist Cheri Smith decided to bring out the hugely popular range of books. For a time they were everywhere, not least in the pages of the Daily Mail, which delivered a weekly Magic Eye quiz to the sitting rooms of middle England.
As the novelty wore off, the craze diminished somewhat, says Phillip Jones, editor of The Bookseller. "But it wouldn't surprise me if they made a comeback - publishers are quite keen to reinforce the value of the print book, and these things work better on the printed page," he adds. Magic Eye Inc says it is still a "thriving" business, syndicating images to newspapers around the world. Maybe that unicorn will finally come into focus for the likes of me after all.
Follow @BBCNewsMagazine on Twitter and on Facebook