Did the English spread suit-wearing around the world?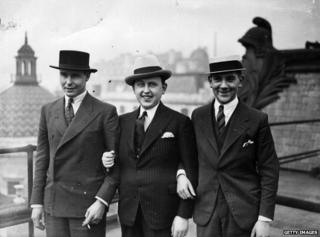 The Uruguayan president blames the English for imposing suits on the world. Is he right, asks Tom de Castella.
Britain's colonial past has a new villain. Step forward the lounge suit. At a regional summit this week Uruguayan President Jose Mujica aired a surprising grievance: "We have to dress like English gentlemen. That's the suit that industrialisation imposed on the world." Mujica, who donates about 90% of his monthly salary to charity and is sometimes called the world's poorest president, was rocking a crumpled striped shirt when he launched his broadside. He went on: "Even the Japanese had to abandon their kimonos to have prestige in the world."
But is he right? The suit has its roots in the French court's matching jacket and breeches. But it was Regency London where it evolved into what we wear today through dandies like Beau Brummell, says Tony Glenville, a creative director at the London College of Fashion. The look was neck tie or cravat with perfectly fitted shirt and crisp suit. Clothes were not thrown away but handed down from aristocracy to the less well-to-do. By the 1890s the suit was becoming common attire, according to the Victoria & Albert museum. How it was propagated around the world remains more sketchy. Empire was a big factor - few sartorial allowances were made for climate. Noel Coward sang in Mad Dogs and Englishmen: "In a jungle town where the sun beats down to the rage of man and beast, The English garb of the English sahib merely gets a bit more creased." Local tailors soon got the idea of what a suit was, Glenville says. And then - perhaps for want of anything better - the suit became the uniform of international business. So Mujica is right mas o menos, although how much it was imposed is debatable. And the Japanese kept their courtly dress well into the 20th Century and changed to suits only for reasons of travel practicality, Glenville argues.
The Uruguayan president never wears a tie. Ties are verboten in Iran, where they are associated with pre 1979 revolution decadence and as "symbols of the Cross". But forget symbolism for a moment, says Glenville. "When you're doing business you don't want to be distracted by what someone's wearing." The suit achieves anonymous elegance, whereas a crumpled shirt - a colonial governor might have suggested in clipped consonants - is the mark of a rabble-rouser.
Follow @BBCNewsMagazine on Twitter and on Facebook