The consolations of Irn Bru and Marmite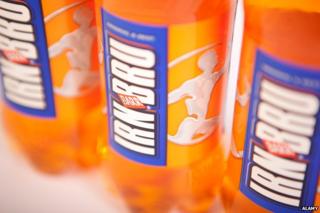 The owner of a British food shop in Canada has reportedly been ordered to stop selling Irn Bru, Ovaltine and Marmite. Whatever their nutritional value, such foodstuffs are a lifeline to expats, says Jon Kelly.
I could point out to you all the corner shops that sell Irn Bru within a three-mile radius of my London flat. Scottish exiles know these things.
When I arrived at Washington DC ahead of a six-month work posting, the Department of Homeland Security officials at Dulles International Airport must have wondered what on earth Yorkshire Tea was and why anyone would feel compelled to cram four jumbo-sized boxes of the stuff into a suitcase.
It's these little reminders that keep me sane, so my sympathies are with the customers of one Tony Badger, who owns a shop called Brit Foods in Saskatoon, Saskatchewan. Mr Badger told local media that he had been prevented from selling certain British delicacies because they all contain additives that are illegal in Canada. Brit Foods' product range also includes Penguin bars, Lucozade and Bovril. If I had known it was possible to get hold of such bounty during my time in North America I would have made the 2,000-mile journey there myself, on foot if necessary.
It wasn't just while in the US that I craved the tastes of distant places. After 12 years exiled in London, I can never pass a box of Tunnock's tea cakes without seizing it and marching towards the nearest till. When my local pub briefly started selling Caledonian 80/- as a guest ale, I almost wept with happiness. Just as Proust had his madeleines, all it takes is a sip of Barr's Red Kola to transport me back to a childhood of Oor Wullie annuals and rhotic consonants.
Saskatoon's public health bureaucrats need to be careful. Desperate people will go to extreme measures. I once interviewed a Renfrewshire native who concealed three illegal tins of Scotland's national dish about his person before flying into Atlanta's Hartsfield-Jackson International Airport. Well, it's Burns Night this weekend, so my annual hunt for a sheep's stomach stuffed with oatmeal and pluck commences as soon as I knock off work tonight. I can't guarantee the safety of anyone who stands between me and my haggis.
Follow @BBCNewsMagazine on Twitter and on Facebook