Caption Challenge: Sheepish expression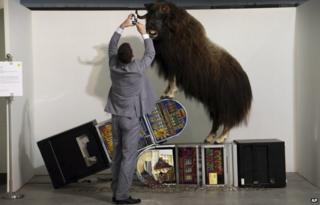 Winning entries in the Caption Challenge.
This week a man photographs Goldrush, an art installation by Dolk of Norway, at the Art Stage Singapore exhibition.
Thanks to all who entered. The prize of a small amount of kudos to the following:
6. Dave Smith:
After relaying the unbelievable story to friends, the inevitable question soon followed... "if that really happened, Steve, why did you just take a picture of its head?"
5. Frank Mitchell:
Art Gnuveau.
4. Simon Rooke:
We must do something about your anger management, you just can't do this every time you get a lemon, a cherry and a bell.
3. Chris Rayner:
"And you're sure this will get me into the movies, right?"
2. Lelystad:
No one could accuse Damien of entering the same old bull for this year's Turner Prize.
1. Mark S:
Yak, yak, yak... it's all these artists do.
Full rules can be seen here
[16KB]
Follow @BBCNewsMagazine on Twitter and on Facebook